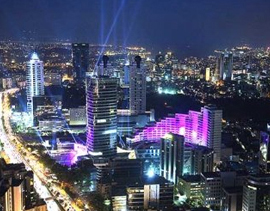 Droves of investors are currently looking at Istanbul apartments for sale. This is not surprising when you consider that FDI investment in Turkey accounted for USD 87.1b between 2007/12, whilst 28% of investment projects started in 2012 came from the U.S (Ernst & Young). Istanbul is viewed as being vibrant yet unexploited – so a perfect time to capitalise on Istanbul apartments for sale.
In April 2012 Turkey announced a range of incentives to attract foreign investors including new incentive schemes such as value-added tax (VAT) exemption and refund, export tax exemption, employment insurance and interest rate support. Such measures stimulated the market almost immediately with the General Electric Co. announcing a USD 900m investment aimed towards Turkey's transportation and infrastructure.
This FDI trend will have a positive impact on Istanbul property as developers increase supply of Istanbul apartments for sale in response to demand – with options such as off-plan Istanbul apartments springing up in the commuter suburbs.
Turkey's economic record is solid and was one of the country's that recovered quickly from the 2009 economic downturn – with the country's GDP nearly tripling in the last decade. It is no wonder then, that Istanbul property is in a boom period, with luxury Istanbul apartments for sale at a fraction of the cost in Eurozone countries.
The area that is currently attracting the most FDI is Turkey's Business Services sector which has enjoyed a 68% annual rate since 2007 (Ernst & Young). With Istanbul hosting the majority of business services in Turkey, Istanbul apartments are in high demand as local and foreign migration to the city continues.
The Vodafone Group have had a headquarters in Istanbul since 2006 with over 18 million users throughout Turkey – another clear indicator that confidence in Istanbul is high with a substantial number of Istanbul apartments for sale increasing month by month.