Istanbul, Turkey's largest city, is also the country's economic, cultural and historical heart with must see museums, mosques, churches and synagogues, palaces and pavilions, castles, statues and monuments.
Real estate in Istanbul is a superb investment opportunity as the government of Turkey frantically try to keep pace with demand for new housing – over 250,000 new units are due for completion in 2014 alone.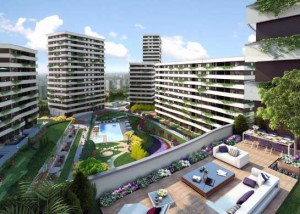 Another reason for the popularity of real estate in Istanbul is the city's reputation as something of a cultural hub – with famous events such as the International Istanbul Film Festival and the Istanbul International Jazz Festival. But perhaps the most prominent of festivals is the Istanbul Biennial, held every two years, which not only showcases Turkish visual art, it is also open to international artists.
Istanbul has some of the best leisure and entertainment available anywhere in the world with numerous shopping centres from the historic to the modern – and a substantiating factor when considering investing in real estate in Istanbul. Take, for instance, the Istinye Park shopping centre which has over 85,000 sqm of retail area, 291 brand stores plus four levels of underground parking. Istinye Park also has a residential complex though most of these apartments were snapped up when they were still only in the off-plan phase. Real estate in Istanbul close to modern shopping malls is a sound investment and there are many such ventures being planned for 2015 and 2016.
The infrastructure of Istanbul is undergoing heavy investment with the two sides of the city's metro soon to be connected by the Marmaray Tunnel – with rail use then expected to increase from 4% to 28%. A network of trams, funiculars, metro lines, bus rapid transit and ferries form a modern transport system that plays an integral part in the new real estate in Istanbul housing projects, as developers seek to align their projects within close proximity of this far reaching network.