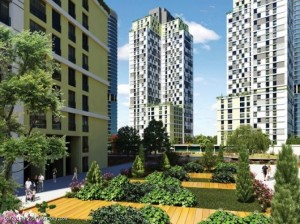 You want to buy an apartment in Istanbul. But which is the best option? A new build Istanbul apartment? An existing Istanbul apartment or an off-plan Istanbul apartment? A new build Istanbul apartment has the advantage of never having been lived in before, yes, there might be some snaggings to sort out but a reputable agent or construction company will quickly fix those for you free of charge.
An existing Istanbul apartment that is around 5 years old will not have snags to take of but will have been lived in previously, so will still have to be maintained with new coats of paint and so forth. An off-plan Istanbul apartment can normally be purchased at the first stage – as the foundations are being laid or before – for around 20/35% off the final purchase price. This gives the purchaser a potential instant profit in a very short time span – though you must ensure that the construction company are reliable with a track record of successfully completing projects.
New Istanbul property is enjoying a boom period at present with over 250,000 new Istanbul apartments planned for construction in 2014 – so there is every opportunity to buy in at the off-plan stage.
If buying for rental purposes then a 1 bed Istanbul off-plan apartment can be purchased for as little as EURO22 K and would be ideal to let out to one of the thousands of Istanbul university students. Also available are luxury 1,2,3 and 4 bed Istanbul off-plan apartments starting from EURO67  K . Luxury Istanbul apartments are often located on modern complexes offering state-of-the-art facilities including indoor and outdoor pools plus a health and fitness centre.
If buying luxury off-plan Istanbul apartments for investment then a European side location in the city is desirable as it offers the best per capita gains.